California
Coming Home
July 30, 2010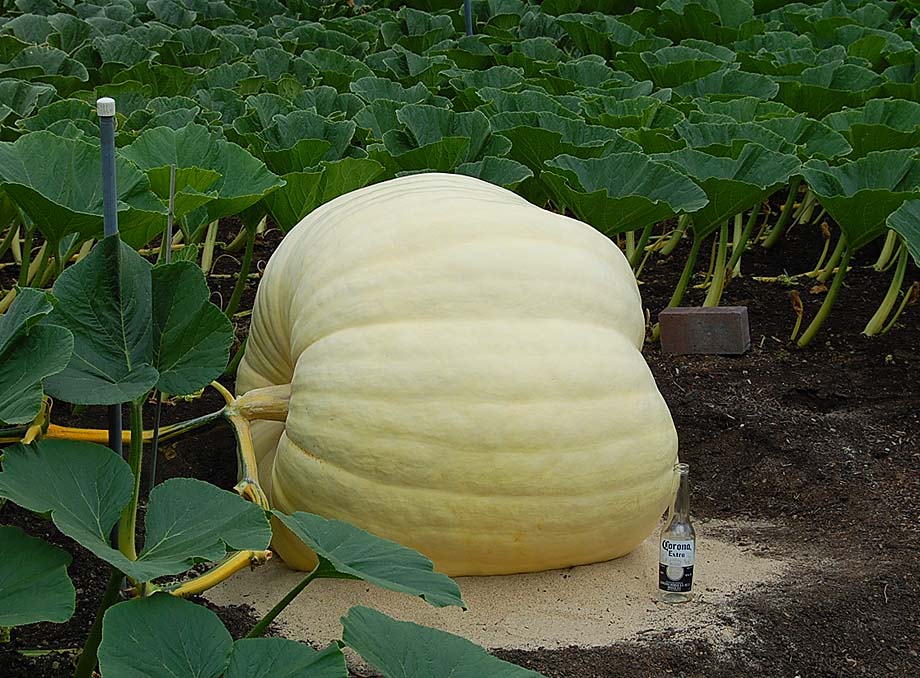 Gentle little Booh Bear (993 Vincent-McGill) has been porkin' out in the honey pot.
At 30 days his tummy has swelled to 120" with a total OTT of 277
or 472 pounds by my old chart. Keep it up little bear!
July 30, 2010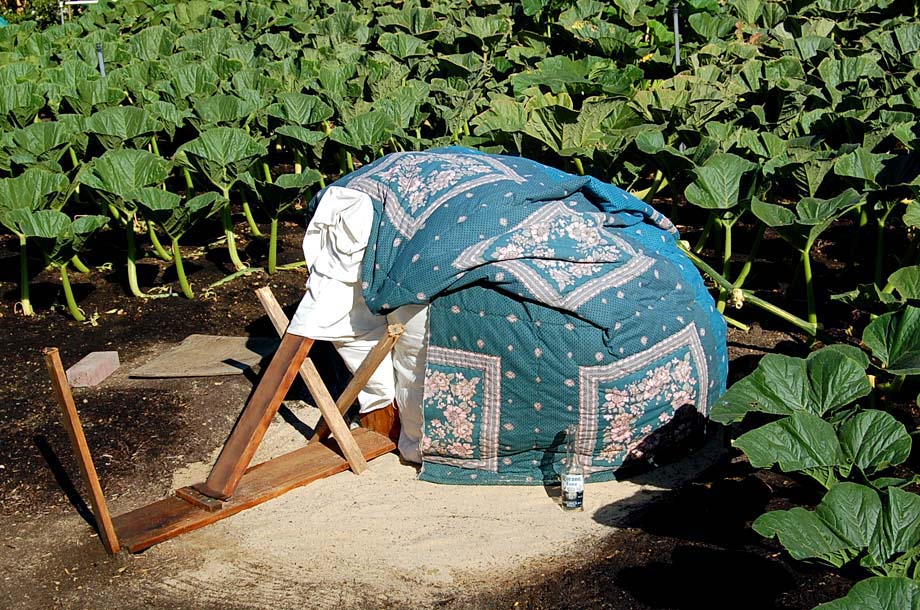 BoohdahMan (1622 Young) has no respect for the law of gravity (or any other law for that matter)....
You better straighten up and fly right buddy or I'll jam this stick so far up your big white hiney
that they'll call you BoodahKabob!
August 3, 2010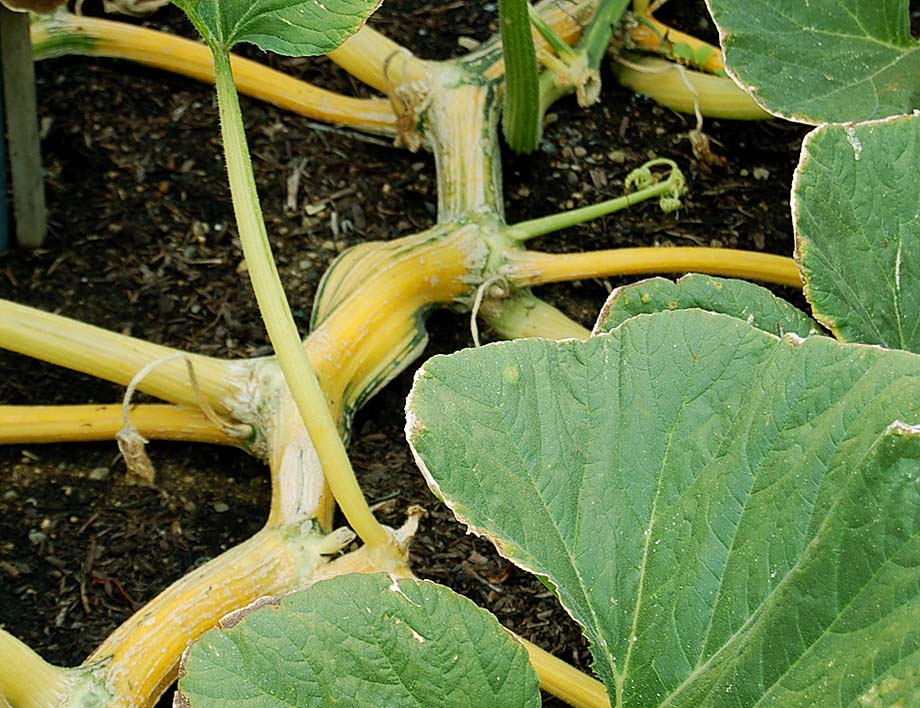 This spring we had several weeks of daily blustery winds right after I let my plants out of the clotch.
This kicked the snot out my plants but the leaves survived in decent shape. The constant buffeting
caused numerous parallel splits in the main vine. In this section, the main vine has rolled out flat
and healed with no obvious bad effects to the plant.
August 3, 2010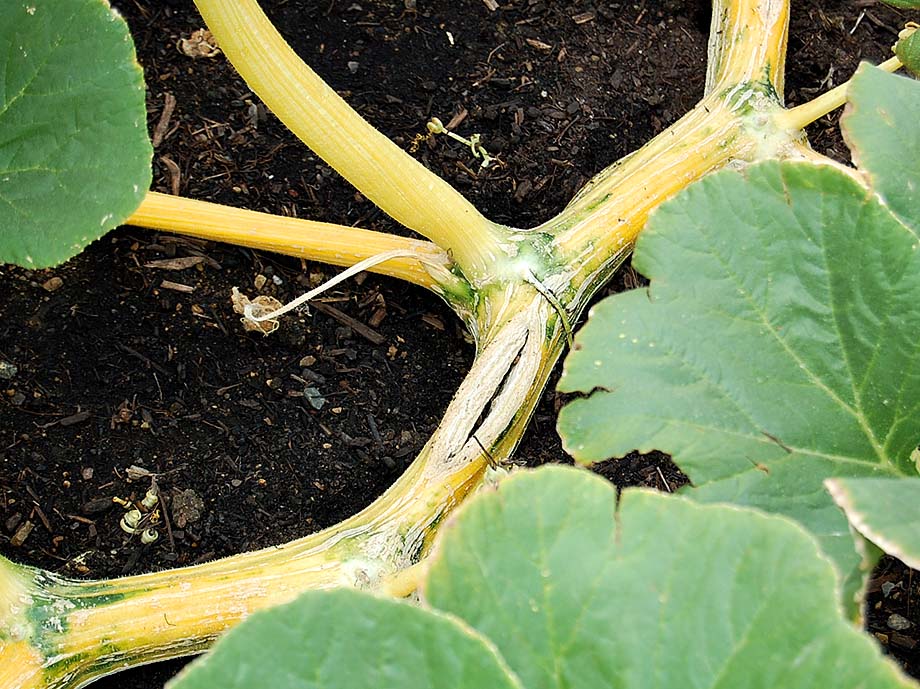 In this section of the main vine, the split has scarred over and healed leaving an opening
into the cavity of the vine. What doesn't kill you only makes you stronger...
August 3, 2010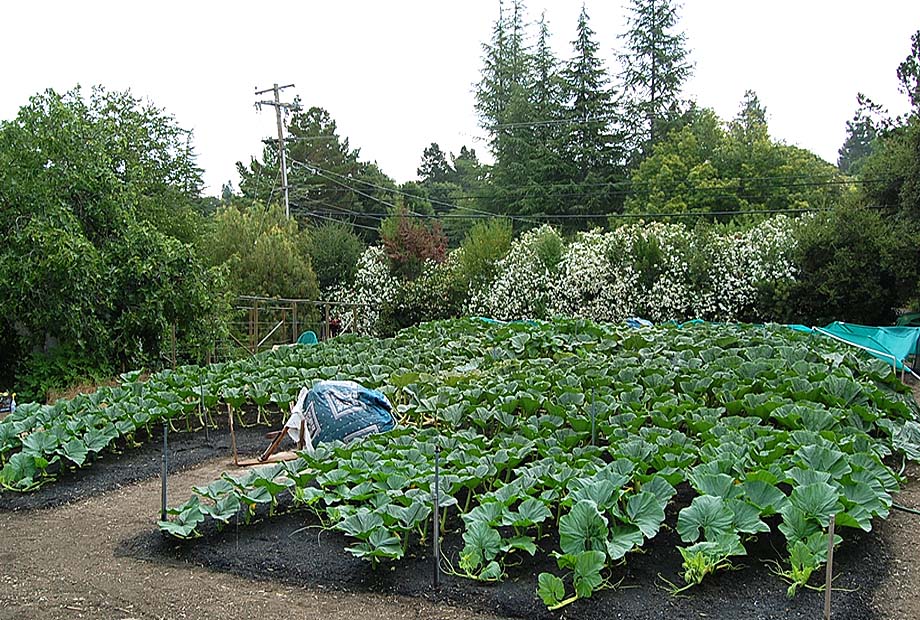 I have terminated most of BoodahMan's (1622 Young) invasive feeding appendages –
which pisses him off to no end. But jeese… the longest secondaries which originate
before the fruit are now over 36 feet – he should be able to find enough to eat.
The plant now covers over 1,000 square feet and that's it, BoodahMan -
learn to live within your limitations.
August 3, 2010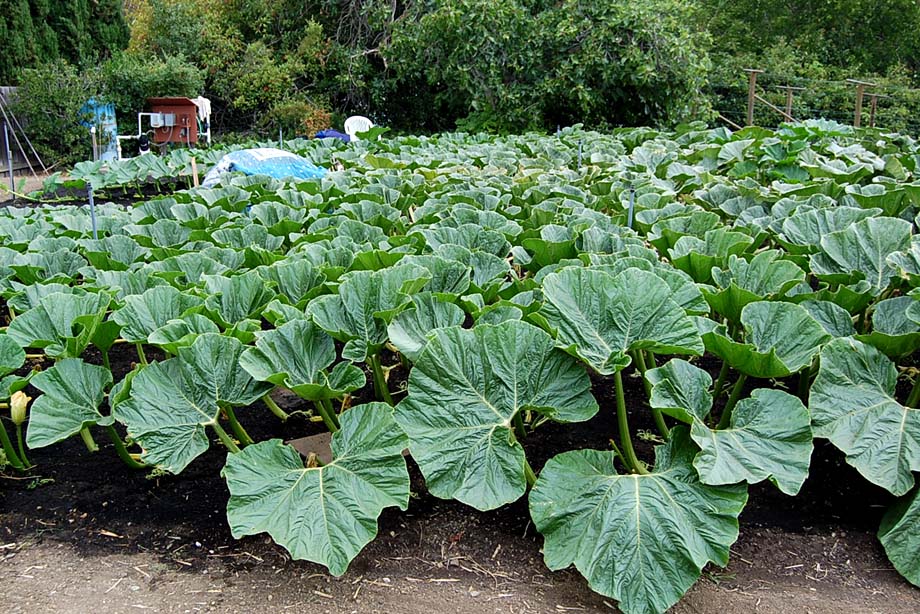 BoodahMan in his meditation robes rises above the salad. "All that we are
is the result of what we have thought. The mind is everything.
What we think we become." Think BIG BoodahMan - Think BIG.....
August 4, 2010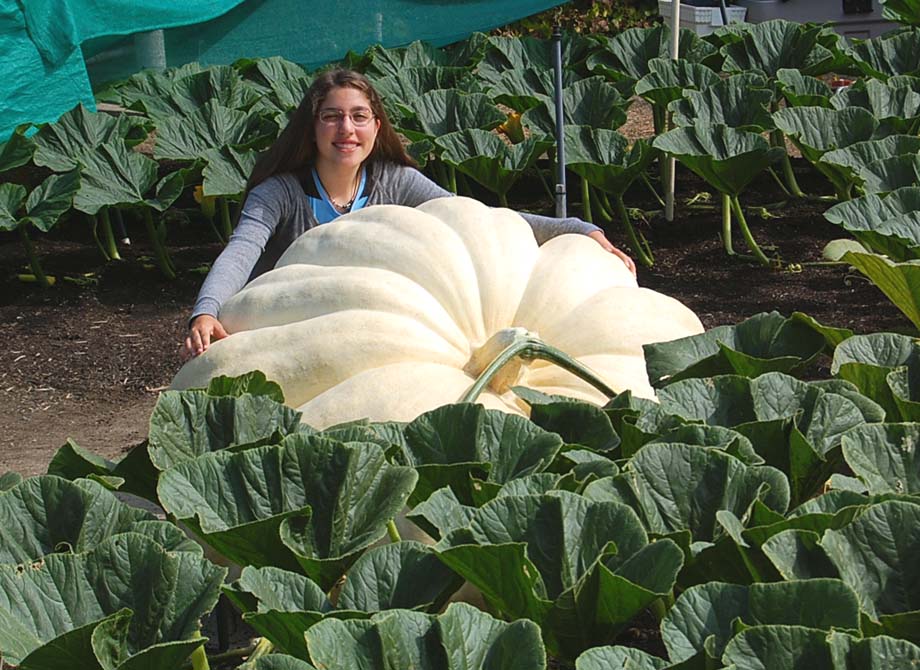 BoodahMan (1622 Young) has attained a massive stature at the youthful age of 40 days.
I can no longer reveal his full girth. You wouldn't believe me anyway.
Actually, I don't believe it either… It doesn't matter - this one will probably blow…
"Do not dwell in the past, do not dream of the future, concentrate the mind
on the present moment." Try to keep your thoughts together young Siddhartha…
August 9, 2010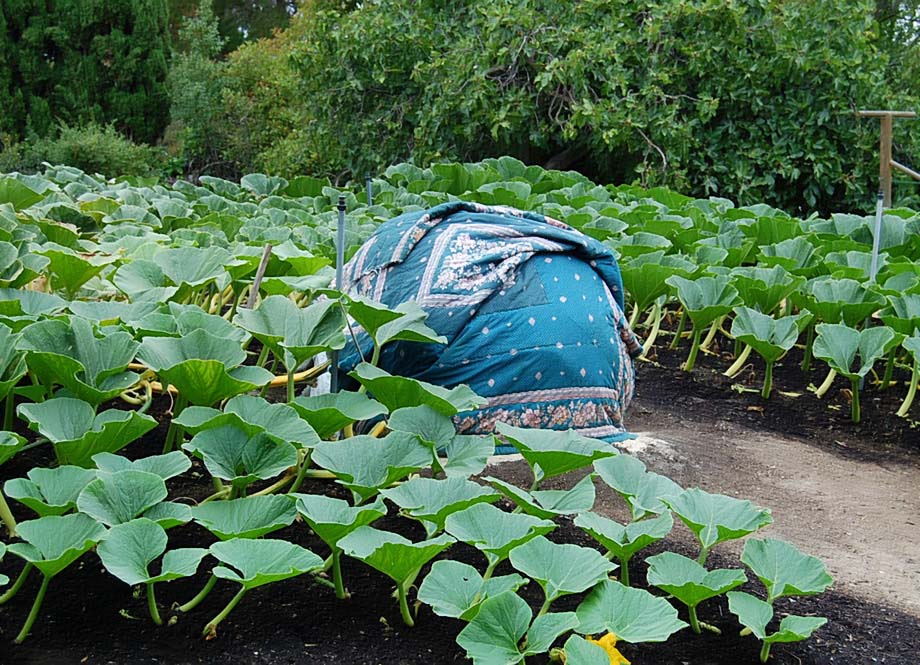 Booh Bear (993 Vincent-McGill) dons some meditation robes and apes
his more introspective big brother BoodahMan up the hill.
"It's all rumbly in my tummy when the honey pot is empty"
You gotta love Booh - he's such an adorable little goof ball.
August 9, 2010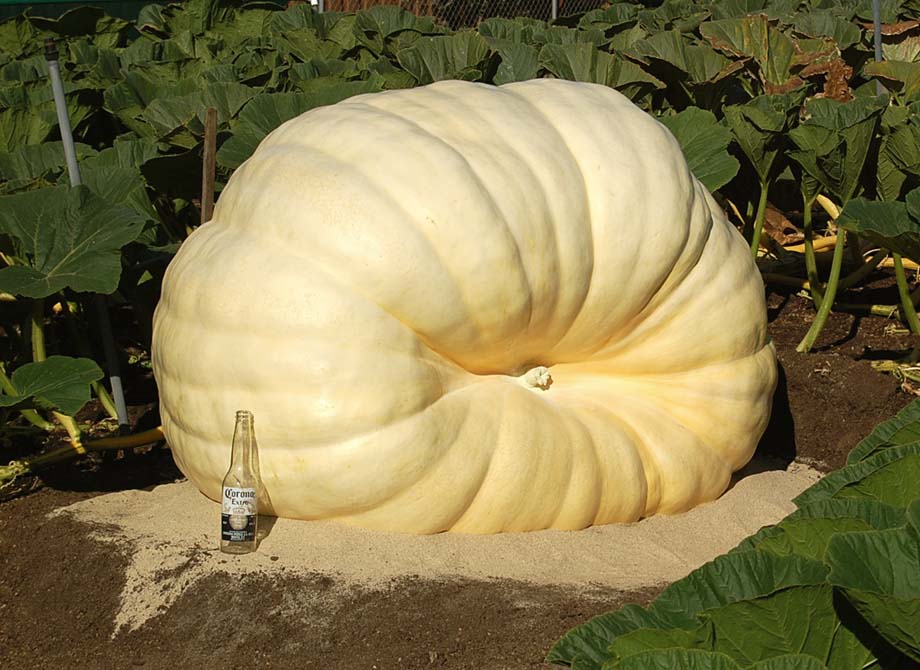 Booh Bear (993 Vincent-McGill) puts on a wide grin when hears all the brouhaha
regarding his bigger boo brother BoodahMan. At 40 days,
Booh Bear is taping a modest 321" OTT – just over 700 pounds.
"I never want to grow up" says Booh. Silly little bear...
August 9, 2010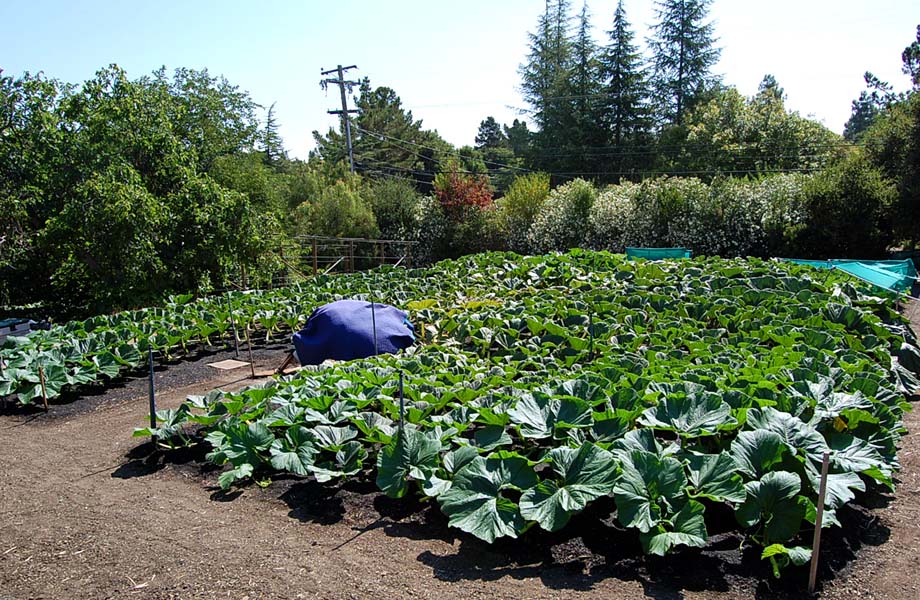 All vines on BoodahMan (1622 Young) are now terminated and the leaves have all filled out nicely.
On an scale of 1 to 10 for aggression, this plant rates at least a 12. This has been one
of the coldest spring/summer periods on record in our area which didn't slow down
this plant's amazing growth curve at all. Thanks for the seed Don.
WARNING: Objects in the patch may appear larger than the Good Lord ever intended. heh, heh...