Back to the
Garden
Sept 29 2010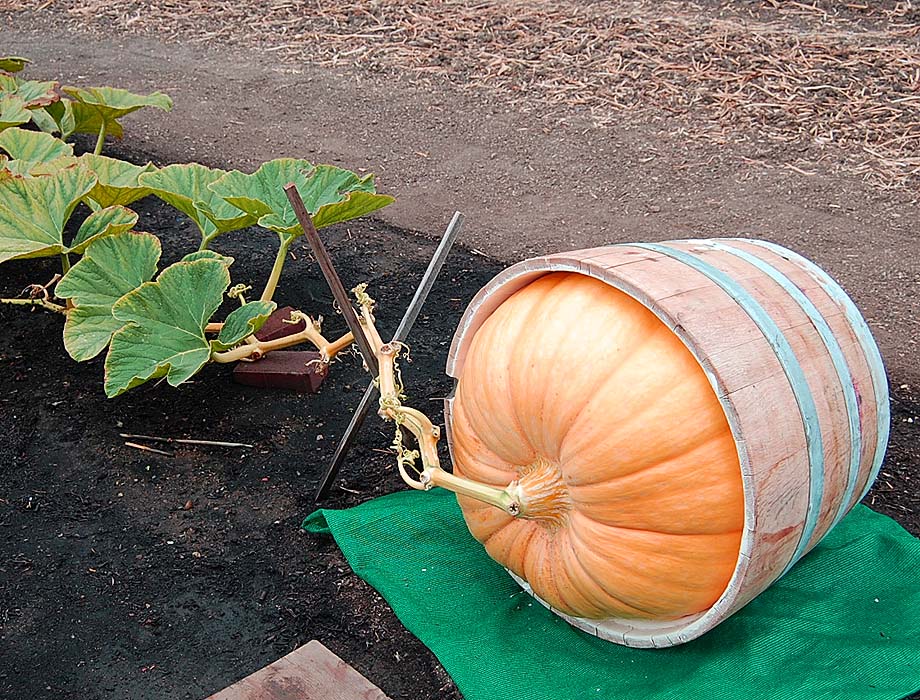 They don't make wine like this in Napa! Olivia's pumpkin vintage is
developing a nice orange head -an unusual characteristic for a wine.
She going to let it age in the barrel a few more days to develop its stature.
Sept 29 2010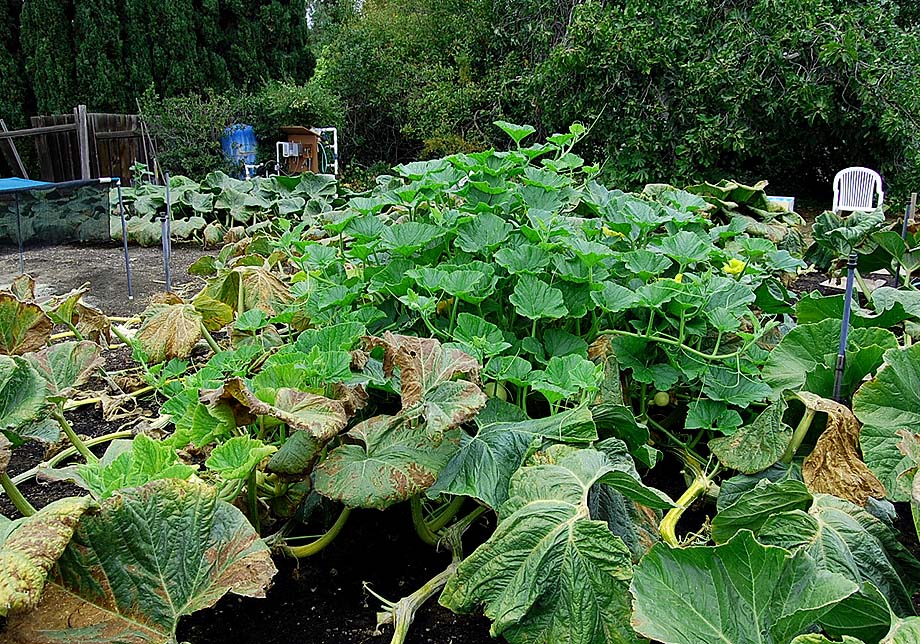 BoodahMan's stump has become a tangled affair. Without the big guy drawing down the main,
the stump has exploded with new vines all setting pumpkins like crazy.
There must be a dozen new starts off to the races hidden in this jungle.
Sept 29 2010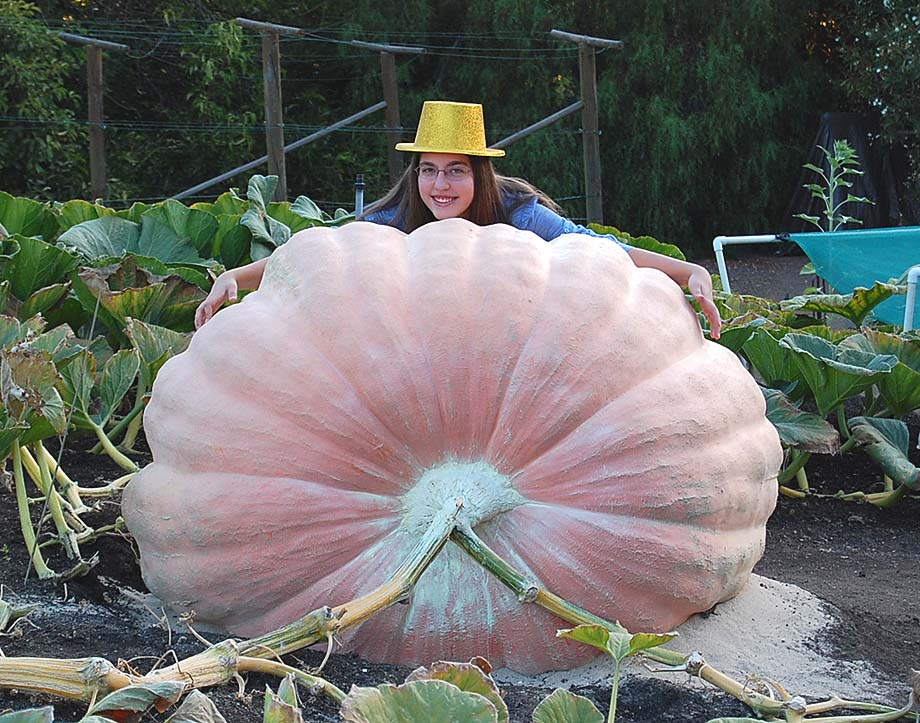 Bashful little BoohBear (993 Vincent/McGill) has been snacking too much on fast food
and molassas and has turned into Big Bad BoohBear. "Supersize me" he giggles.
"I want to be much much bigger than my broken boo brother BoodahMan."
Oct 21, 2010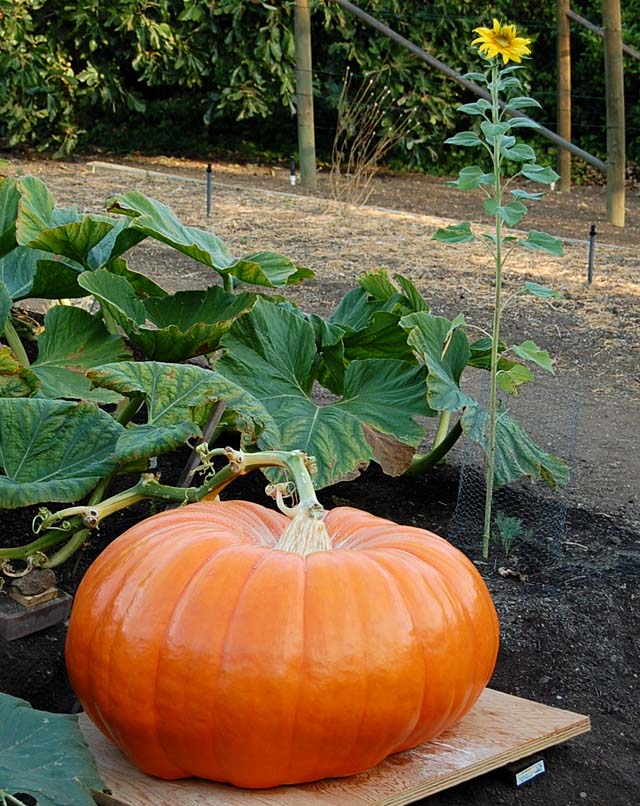 About 40' out from the 993 stump and 24' from the main vine sits Goldilocks,
Olivia's late-set pretty pumpkin. Olivia has already gotten a call
from Cinderella checking on availability.
Oct 21, 2010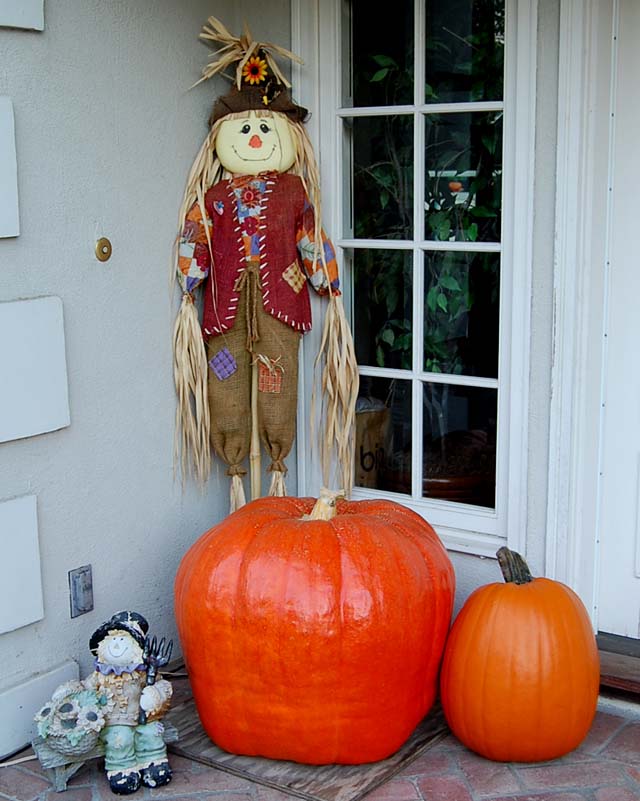 Olivia's wine barrel pumpkin, Baby Booh, also grown on the 993 Vincent/McGill,
decides to hang out on the porch. Baby Booh weighs about 200 lbs.
Oct 21, 2010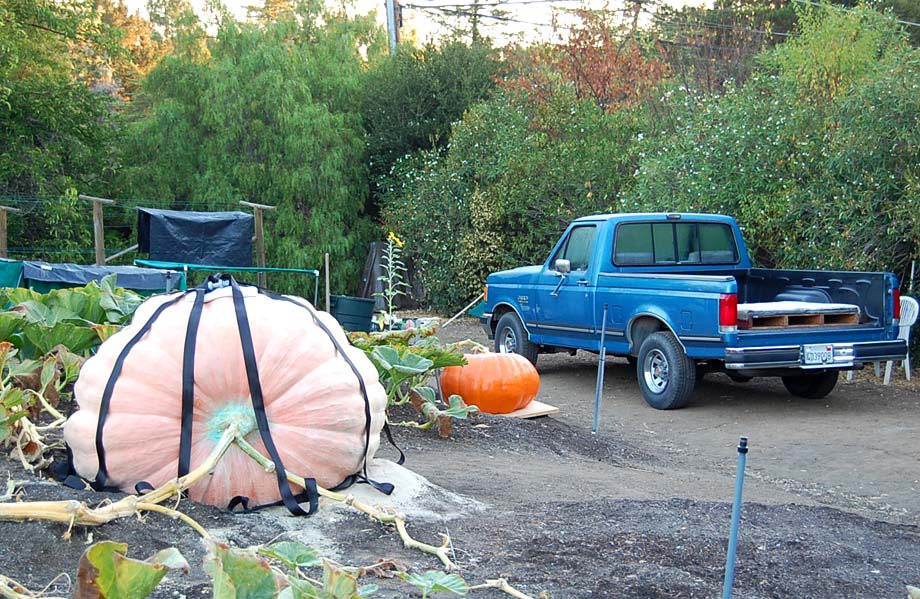 Booh Bear (993 Vincent/McGill) and Goldilocks are both ready
to jump on the truck to Half Moon Bay.
Oct 21, 2010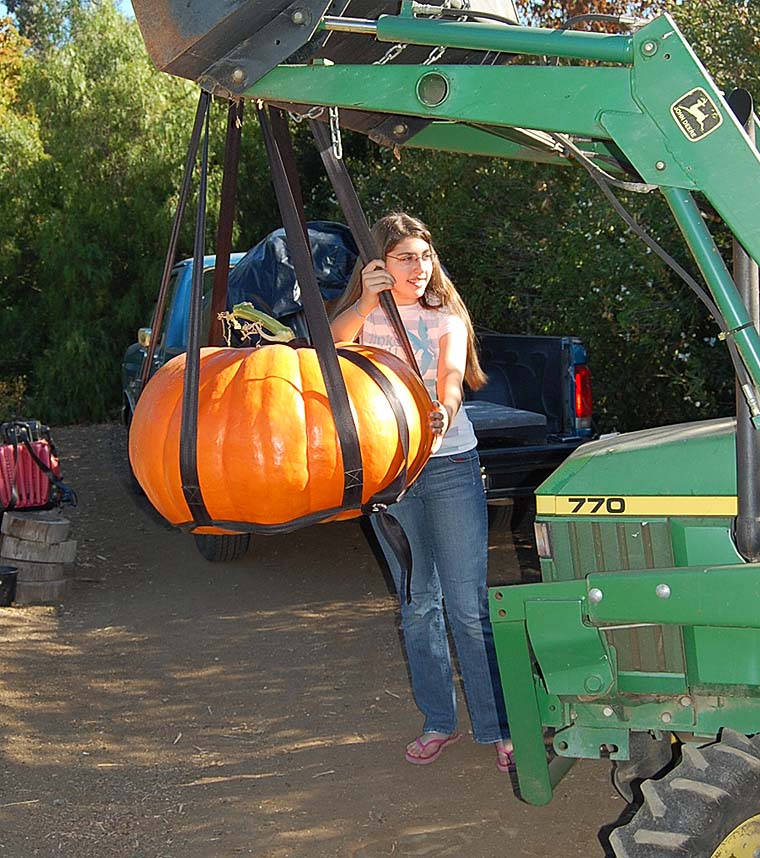 Olivia helps steady Goldilocks as she floats to the truck!
Oct 21, 2010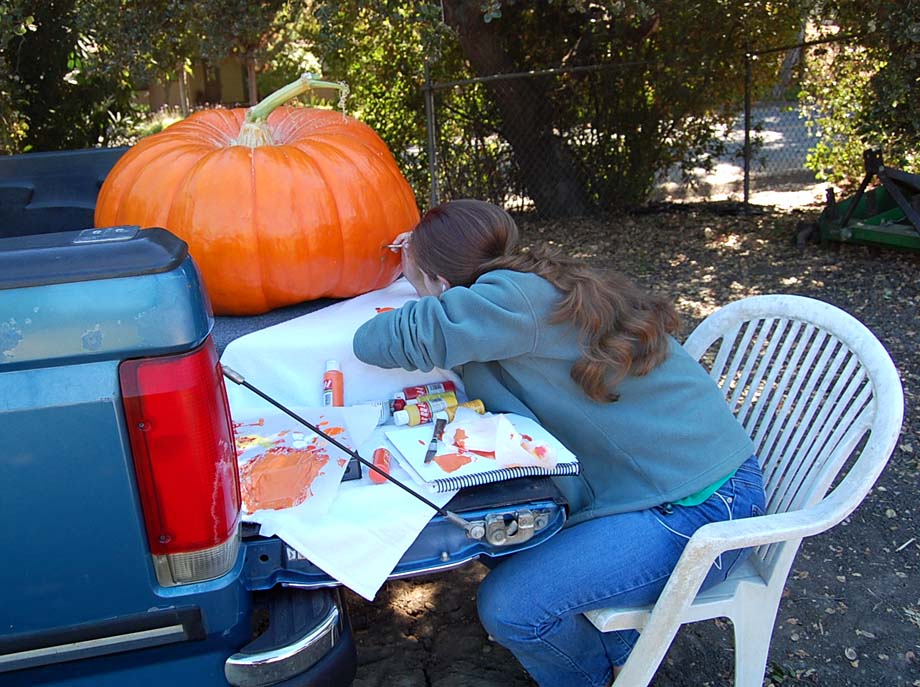 Master Artist Amanda tries to match Goldilocks bright orange color
as she paints out a squirrel bite that blemishes Goldilocks stunning orange hide.
Oct 21, 2010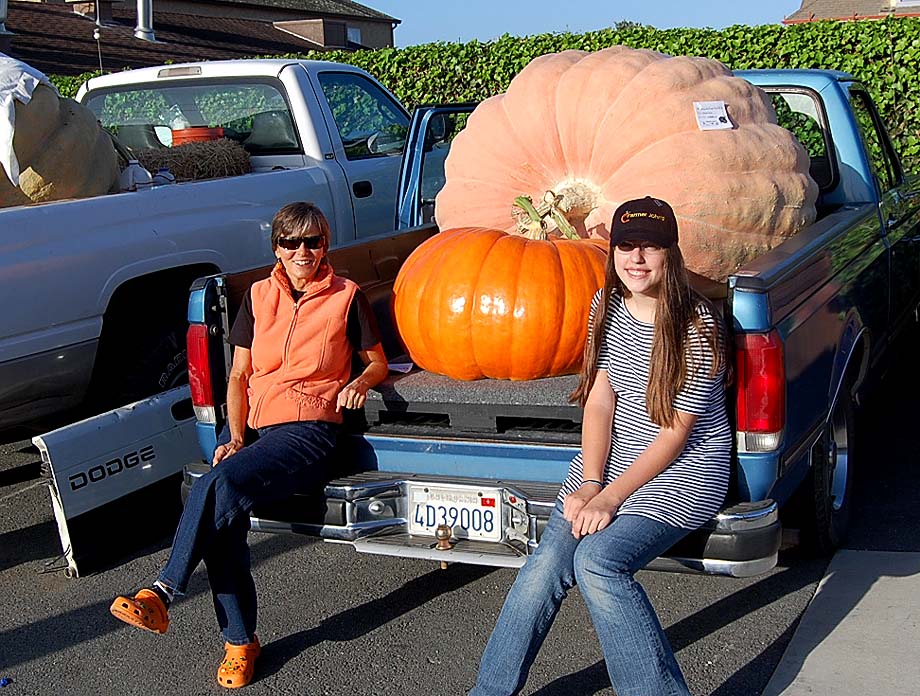 Cindy Glasier visits with the Zunino clan at Half Moon Bay. Booh Bear weighs in at 1,212 lbs.
and captures 9th place overall. Goldilocks weighs in at a hefty 287 lbs - 20% over the charts!
Oct 21, 2010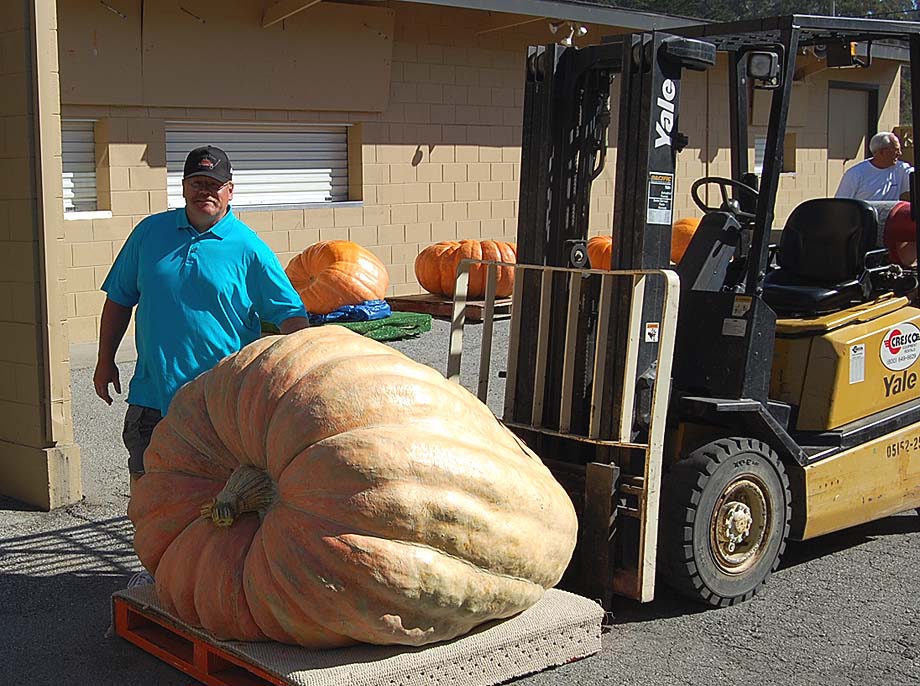 Ron Root from Citrus Heights headed to the scale with his winning 1,535 grown off the 991 Urena.
California growers rule the scales at HMB this year taking the top three spots.
Oct 21, 2010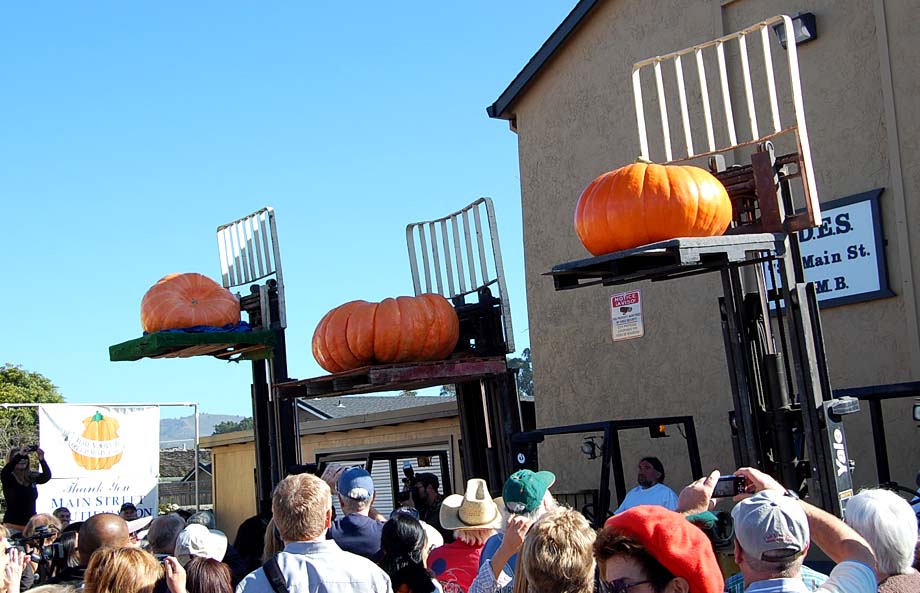 High above the crowd, Goldilocks outshines the competition and is
overwhelmingly voted the most beautiful pumpkin at Half Moon Bay.
Oct 21, 2010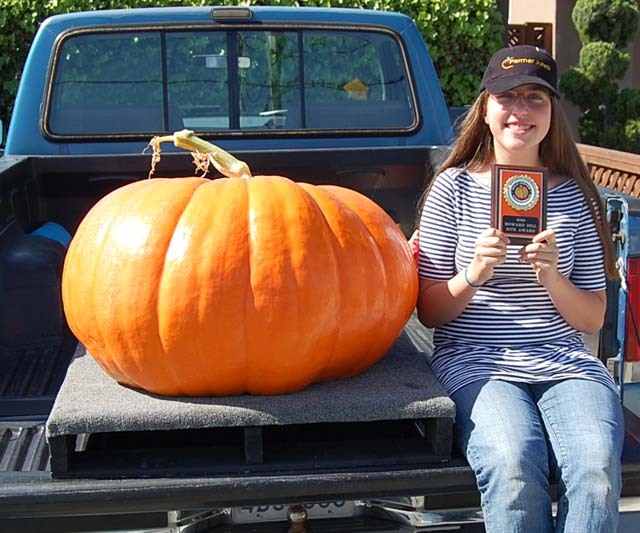 Goldilocks and Olivia the two prettiest girls at Half Moon Bay.
Oct 21, 2010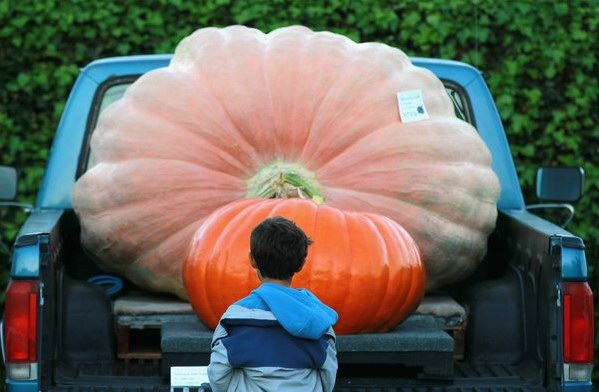 Small boy, pretty pumpkin, big pumpkin – there's still a bit of magic in this world...